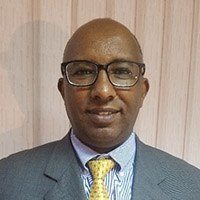 A graduate of Fergesuon College with M.A in economics and MPH from Haramaya University. Leads two private healthcare facilities as CEO of Sr. Aklesia Memorial General Hospital and as Managing Director of Hema Advanced Diagnostic Laboratory, which is the first ISO 15189 accredited privately owned institution in Ethiopia. He is serving as a director of board in many international and local organizations. Currently he serves as Vice President of the Addis Abeba Private Health Facilities Employers' Association (AAPHFEA) in addition as President of Ethiopian Employers Federation (EEF), and as Secretory of board of Ethiopian Industry Employers'' Confederation (EIEF).
In an international engagement he serves as board director at International Partnership for Reproductive Health (IPRH) an NGO based in the USA; Country Director at US Doctors For Africa USDFA, a humanitarian organization committed to increasing access to medical care for diseases and conditions affecting the people of Africa and Board Director of East Africa Healthcare Federation (EAHF).
He also has been instrumental in facilitating Country focal person for Georgia State University (Atlanta, Ga) for its early age education program in Ethiopia. He is also engaged in health researches and medical outreaching programs supported by international development partners and health insurance like Primecure and Calibre Clinical Consultants. Furthermore he has also functioned as a lecturer at Addis Ababa University.