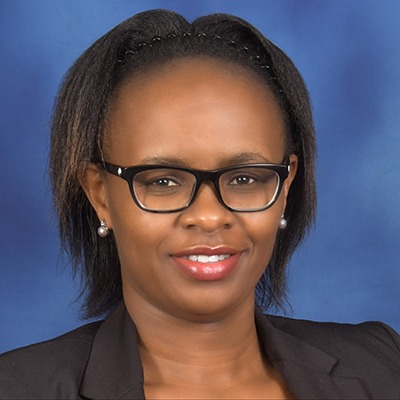 Dr Esther Njoroge-Muriithi is the Vice President and Regional Director for Africa at Smile Train, an international organization that empowers local medical professionals with training, funding, and resources to provide free cleft surgery and comprehensive cleft care to children globally. We advance a sustainable solution and scalable global health model for cleft treatment, drastically improving children's lives, including their ability to eat, breathe, speak, and ultimately thrive.
Dr. Esther Joined Smile Train in 2008 as a volunteer and has worked her way up the ranks to Vice President and Regional Director for Africa. During her tenure the programs have grown in number and scale, spanning 34 countries.
Dr. Esther oversees the growth and maintenance of Smile Train's partnerships and programs across all of Africa. Her vision is to have every child born with a cleft in Africa access safe and quality treatment before the age of two years and grow up to be constructive members of their communities.
Before joining Smile Train, Dr. Esther worked with the Ministry of Medical Services in Kenya and later Kenya Airways as a Medical Officer. She holds a Bachelor of Medicine and Surgery (MBChB) from University of Nairobi and a Master in Public Health specializing in Health Systems Management. She is also a qualified accountant under the Association of Chartered Certified Accountants (ACCA) and holds several other certificate-based trainings.
She is a recipient of Business Daily Africa's Top40Under40 women in 2016, in recognition of her efforts and achievements in providing cleft care in Africa.
Dr. Esther is passionate about children and their health, an important pillar in her commitment to Smile Train. She is a Rotarian, a wife and mother of three.