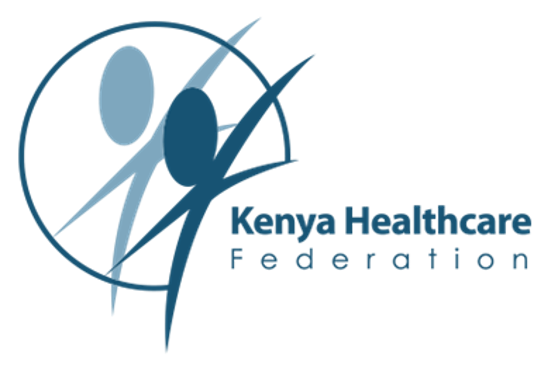 Kenya Healthcare Federation (KHF) is a Private Sector Membership-based organization and serves as the Health Sector Board of the Kenya Private Sector Alliance (KEPSA). KHF's goal is to have an enabling environment that supports quality affordable healthcare for all Kenyans. The Federation intends to achieve this by championing Public Private Partnerships (PPPs) for better healthcare by networking, engaging, representing and through win – win negotiations. The National Government of Kenya (GoK), County Governments, Faith Based Organization (FBO) networks, Development partners and NGOs in the health sector are all key partners of KHF in trying to achieve its goals.
The pandemic since it's time of occurrence has truly shed some light on importance of preparedness in response to pandemics and other diseases both now and in the future. The preparedness not only involves having the right and enough quantity of health supplies, but also having structures and in addition having the appropriate knowledge of the case scenario to guide and facilitate in preparedness to respond to pandemics.
Regional and country pandemic response frameworks exist, however, there is need to assess current situation identify gaps and make recommendations for optimization of existing framework especially as far as private sector is concerned – for awareness and capacity building to ensure all suspect pandemic cases get reported appropriately.
Sensitization on infection prevention and control has also become a necessity in fighting the pandemic. There have been efforts by the ministry of health to roll out a training program on infection control as well as COVID service set up, delivery and clinical management for COVID. These efforts have primarily focused on public healthcare facilities.
It is for these reasons that KHF proposed the Scaling up of training of healthcare workers and carrying out an Assessment of Regional Pandemic Response Frameworks that are in existence.
Project Objectives
To support scaling up training of healthcare workers.

Build a community of Infection and Prevention Control (IPC) Trainers.

To digitize IPC Training.

Support access online and off-line IPC capacity building using digital tools.

To carry out an assessment of Regional Pandemic coordination framework.

Identify current status and gaps and make recommendations on regulatory harmonization and regional surveillance of pandemics.
METHODOLOGY / PROCESS
Two trainings were carried out within Nairobi. The topics for the trainings included Infection Prevention and Control training of trainers and COVID-19 Antigen Rapid Diagnostic Technique (RDT) Training of trainers. These topics were selected as per the context of the overall project which is providing policy options for mitigating the impact of COVID 19 pandemic for the Eastern African member states.
Facilitators with the expertise in the aforementioned topics were selected from the Ministry of Health. The target groups for the training were then identified from the private health facilities and the criteria used was three cadres included different cadres Nurses, Clinical Officers and Laboratory Technologists. The IPC training focused on all three cadres while Antigen RDT training focused on the Laboratory Technologists cadre.
Following the mobilization of the facilitators and trainees, the scheduling of the trainings was as follows;
1. First Training.
Topic:

Infection Prevention and Control TOT

Venue:

Four Points Hotel, Hurlingham Nairobi

Date:

Tuesday 8th – Thursday 10th December 2020
Download the Infection, Prevention and Control of Covid-19 Training List of Participants.
2. Second Training.
Topic: Rapid Diagnostic Antigen testing TOT
Venue: National Nurses Association of Kenya, KNH Grounds
Date: Thursday 5th – Friday 6th May 2021
Download the Rapid Diagnostic Testing training list of Participants.
During each of the trainings, they were live recorded by a contracted production team. The live recording was to help in achieving the digitalization of the training. This recording included both the theoretical and practical sessions. The live recording was then edited and produced into different modules as per the topics taught during the training.
OUTCOME/RESULTS
From both trainings, on the Infection Prevention and Control and Rapid Diagnostic Antigen Testing, a total number 59 healthcare workers were trained.
The cadres trained included: Nurses, Lab Technicians and Clinicians.
Geographical coverage: Nairobi, Bungoma, Kilifi, Machakos, Murang'a, Nakuru and Kiambu.
Recordings of the training: Edited version into Modules.
Database of trainers of trainers on IPC and Antigen RDT accessible to the East Africa region.
To access the free eLearning platform, visit this link; elearning.eahf.net
COST EFFECTIVENESS
The project was allocated US $24,530. The budget accommodated all activities to be carried out. This was made also by considering various quotations from different vendors who would give quality and affordable products.
LESSONS LEARNT
Our federation as the lead coordinator for the health technical working group, participation and cooperation of the country federations played a big role in ensuring the project was implemented successfully.
The bi weekly meetings organized with the federations were of great help to keep on track with the progress of the project. These meetings also assisted in getting any concerns from the team and give assistance where required and in good timing.
A learning point from working with the team is that all country federations have something to offer. This includes innovative approaches that could be borrowed to solve problems we face especially during these COVID-19 times.
Digitalization of the trainings gives an advantage of having a broader coverage of healthcare workers trained from the comfort of their institutions/homes. It has brought convenience, reliability and ease of access especially to the neighboring regions as well.
CHALLENGES DURING THE IMPLEMENTATION
KHF as the lead coordinator for the health technical working group, the challenges experienced included inclusion of the South Sudan team that was not able to participate till end of the project. To counter this, we were able to loop in a representative into our technical working group meetings.
Another challenge was delay in disbursement of funds to the country federations. This in effect caused a delay in implementing some activities in some of the country federations.
Trainings
To digitalize the trainings, they required to be held physically rather than virtually. Owing to the COVID-19 situation, most hotels that offer conferencing packages were either closed down or had a limitation of number to host as per the guidelines
Assessment Of Pandemic Surveillance Frameworks
The frameworks exist however minimal documentation is available for review. Additionally, the available resources are in their draft forms rather than their complete reviewed form.
Within our region, the private sector involvement is minimal and therefore to access some of the information regarding the topic was a bit of a challenge.
FUTURE STRATEGIES
The federations working together from an East African perspective, has shown a regional approach to be efficient and a good way of sharing innovative ways among the countries. Therefore, there's a plan to include Ethiopia in the future regional projects just to have a broader coverage during implementation of project objectives.
Within our region, the region's pandemic surveillance framework exists, however the private sector has minimal involvement in its operationalization. KHF looks to plug in various departments so as to contribute to its implementation even for future outbreaks of pandemics/diseases.
KHF will look to further develop the East African Healthcare Federation e-learning platform with different regional contents accessible to all. The regional content to involve activities carried out by the different east Africa country federations, in context with COVID-19 pandemic and any other health related issue
Download the full report here.